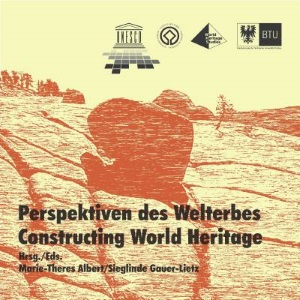 An international symposium on "Constructing World Heritage" with scholars from 12 countries was hosted at the Brandenburg University of Technology Cottbus on the occasion of the inauguration of the UNESCO Chair in World Heritage Studies.
This publication is the result of the symposium. The contributions are concerned with posing questions about the heritage of humanity. They present a broad range of aspects, which are identified and discussed in the context of the protection and use of the cultural and natural heritage of humanity.
The books main concern is to define and develop areas of research. In so doing, problems resulting from tensions between protection and use and between tangible and intangible heritage are transferred into innovative and future-oriented concepts. A recommendation, "Cottbus Declaration", was adopted by the participants for training and advanced education in the field of cultural and natural heritage of the world. The recommendation has the intent of contributing to the increased awareness of World Heritage and the establishment of new partnerships on local, national and international levels and of making suggestions for education and research on the basis of a broad international consensus
.
Perspektiven des Welterbes – Constructing World Heritage
Volume 3 of the World Heritage Studies Series
Albert, Marie-Theres, Gauer-Lietz, Sieglinde (Eds.)
IKO-Verlag für interkulturelle Kommunikation, Frankfurt/Main, 2006. ISBN 3-88939-795-6
If you would like to purchase a copy of this volume, please contact: interkulturalitae(at)tu-cottbus.de
---
Further titles of the section World Heritage Studies Series