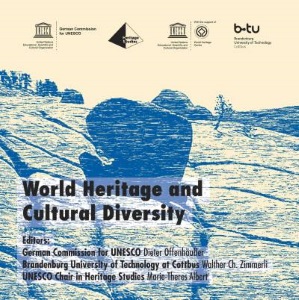 At the centre of the collection is the question of how UNESCO World Heritage Sites reflect cultural diversity.
In their contributions, over 30 scientific authors discuss issues concerning the protection of World Heritage Sites, the political framework conditions, the integration of World Heritage Studies in university education as well as the strengthening of the linkage between discourses on World Heritage and cultural diversity.
The publication summarises the contributions of the international conference "World Heritage and Cultural Diversity – Challenges for University Education", that took place in Cottbus from 23 to 25 October 2009 at the invitation of the UNESCO Chair in World Heritage Studies and Brandenburg University of Technology Cottbus, in cooperation with the German Commission for UNESCO. The conference was held under the auspices of the UNESCO World Heritage Centre, Paris and the Foreign Office
.
World Heritage and Cultural Diversity, German Commission for UNESCO
Volume 4 of the World Heritage Studies Series
Albert, Marie-Theres, Offenhäußer, Dieter, Zimmerli, Walther Ch. (Ed.)
Bonn, 2010. ISBN 978-3-940785-20-6

World Heritage and Cultural Diversity
---
Further titles of the section World Heritage Studies Series