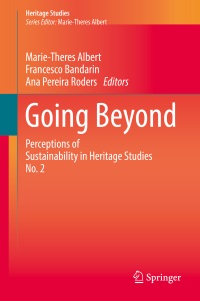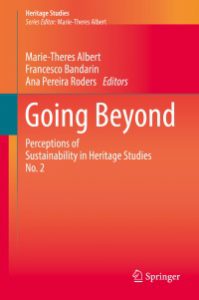 The book Going Beyond – Perceptions of Sustainability in Heritage Studies No. 2 is the 5th volume in the Heritage Studies Series, edited by Institute Director Prof. Dr. Marie-Theres Albert, UNESCO Assistant Director-General for Culture Prof. Francesco Bandarin, and Prof. Ana Pereira Roders, University of Eindhoven.
It is an anthology with European and non-European approaches to heritage and sustainability. The structure and content of this publication were drafted with the authors during the 39th Session of the World Heritage Committee in Bonn. The book is conceived of as a two-way exchange of international experts about heritage and sustainability and, by means of diverse discussants, opens a multiplicity of perspectives for the implementation of UNESCO's objectives.
Scientific Committee: Scientific Peer Review Committee
Review: Karla Boluk
---
Going Beyond – Perceptions of Sustainability in Heritage Studies No. 2
Volume 5 of the Heritage Studies Series
Marie-Theres Albert, Francesco Bandarin, Ana Pereira Roders (Eds.)
Springer International Publishing AG 2017. ISBN 978-3-319-57164-5. ISBN eBook 978-3-319-57165-2
---
Supported by: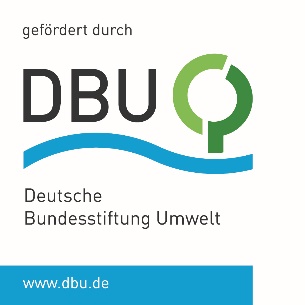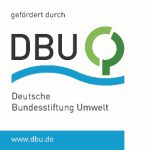 ---
Preface
The fifth publication in the Heritage Studies Series was conceptualized in the beginning of 2015 when the Chair holder of the UNESCO Chair in Heritage Studies, on the occasion of the 39th session of the World Heritage Committee in Bonn, partnered with the German UNESCO Commission and the Gerda Henkel Foundation to host an international symposium on "The Four Pillars of Sustainability for the Implementation of the UNESCO Conventions and Programmes." The background of this symposium was on the one hand, the key theme of the World Heritage Committee, which was heritage as a driver for sustainable development, and on the other hand, a presentation of the fourth book in the Heritage Studies Series titled "Perceptions of Sustainability in Heritage Studies".
The event was carried out in the form of think tanks in which approximately 100 participants discussed and explored the four pillars of sustainability – economic sustainability, social sustainability, environmental sustainability and cultural sustainability – with the intention to collect material for the current publication. In light of this publication, we can gladly say that we have succeeded with our objective. Most of the essays published in this book were presented and discussed during the think tanks at the symposium in Bonn. In this respect, the book can be considered as a result of the most salient reflections of global protagonists of the discourse on the sustainable protection and use of heritage.
Therefore, we would like to take this opportunity to thank the Gerda Henkel Foundation and the German Federal Environmental Foundation (Deutsche Bundesstiftung Umwelt) for their financial support of both the implementation of the think tanks as well as the completion of this book. Without their generous support, neither one would have been possible.
---
Content
Introduction and Introductory Reflections, by the editors
Part I  Beyond the Current – New Political Commitments
Culture as an Enabler for Sustainable Development – Challenges for the World Heritage Convention in Adopting the UN Sustainable Development Goals
Michael Turner (Israel)
The Potential of Culture for Sustainable Development in Heritage Studies
Marie-Theres Albert (Germany)
Natural World Heritage and the Sustainable Development Goals
Barbara Engels (Germany)
Part II Beyond Existing Approaches – New and Innovative Theoretical Perceptions
The Sustainability of Digital Documentary Heritage
Anca Claudia Prodan (Romania/Germany)
Sustainability, Sustainable Development and Culture – Diverging Concepts and Practices in European Heritage Work
Samantha Lutz, Gertraud Koch (Germany)
Culture, Development and Sustainability: The Cultural Impact of Development and Culture's Role in Sustainability
Shina-Nancy Erlewein (India/Germany)
From Obstacle to Resource:  How Built Cultural Heritage can Contribute to Resilient Cities
Matthias Ripp (Germany)
Part III Shifts in the understanding of heritage and sustainability
Heritage Conservation and Sustainable Development in Sacred Places: Towards a New Approach
Sara Anas Serafi (Saudi Arabia/UK), Kalliopi Fouseki (Greece/UK)
Beyond Conventional Limits: Intangible Heritage Values and Sustainability Through Sport
Allison S. Thompson (US)
Contextual Sustainability in Heritage Practice: Urbanization, Neighbourliness, and Community Dialogue in Akçalar, Turkey
Caitlin Curtis (US)
Part IV Best Practises and Narratives
Shaken Cityscapes: Tangible and Intangible Urban Heritage in Kathmandu, Nepal and Yogyakarta, Indonesia
Simone Sandholz (Germany)
Aspects of Social Imperative: The Sustainable Historic Environment in the Developing World
Debbie Whelan (South Africa)
The Dilemma of Zambia's Barotse Plains Cultural Landscape Nomination: Implications for Sustainable Development
Kagosi Mwamulowe (Zambia)
Feeling Responsible for the Good Life on Earth: The Construction of Social Spaces and Sustainability in the Andes
Claudia Lozano (Argentina)
Part V Beyond the mainstream
Sustainable Power: Decolonising Sustainability Through Anishinaabe Birchbark Canoe Building
Tim Frandy (US) and B. Marcus Cederström (US/Sweden):
Cant of Reconquest and the Struggle for Restoring Sustainability of the Southern Paiutes
Richard Stoffle, Kathleen Van Vlack, Richard Arnold, Gloria Bulletts Benson (US)
The Past and Future of Indigenous Peoples' Heritage – Transforming the Legacies of Non-Sustainability of Protected Areas
Robert Rode (Germany)
Hue at an Existential Crossroads: Heritage Protection and Sustainability in an Asian Developing Country Context
William Logan (Australia)
Part VI Aspects of Implementation
Malaga vs Picasso. Re-branding a City Through Non-Material Heritage
Daniel Barrera-Fernández (Mexico), Marco Hernández-Escampa (Mexico)
Geoethics and Sustainability Education Through an Open Source CIGIS Application: the Memory of Places Project in Calabria, Southern Italy, as a Case Study
Francesco De Pascale (Italy)
Integration of Cultural Heritage into Disaster Risk Management: Challenges or Opportunity for Increased Disaster Resilience
Mohammad Ravankhah (Iran), Ksenia Chmutina (UK), Michael Schmidt (Germany), Lee Bosher (UK)
Facilitating the Process Towards Social Sustainability: A Culture-Based Method for Mapping Historic Public Places, Applied to the Example of Tabriz Bazaar, Iran
Solmaz Yadollahi (Iran), Silke Weidner (Germany)
Heritage Impact Assessments as an Advanced Tool for a Sustainable Management of Cultural UNESCO World Heritage Sites – From Theory to Practice
Michael Kloos (Germany)
Annexes: Documents and Materials concerning Heritage and sustainable Development
Heritage and Sustainable Development
Culture, diversity and Sustainability
World Heritage and Sustainability
Intangible Cultural Heritage and sustainability
Memory of the World Programme and Sustainability
Overarching Sources on Heritage and Culture and Sustainable Development
Notes on Editorial Advisory Board Members
Notes on Contributors
Notes on Scientific Peers
Index
---
More from Heritage Studies Series