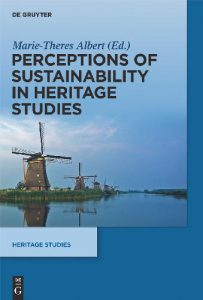 Marie-Theres Albert (Ed.): Perceptions of Sustainability in Heritage Studies. De Gruyter: Berlin, Boston 2015
Review by Prof. Dr. Renate Nestvogel
The concepts of sustainable development (s.d.) and sustainability, as formulated at the Rio Conference in 1992, emerged from analysis of the exploitation and destruction of natural (water, air, soil, raw materials) as well as human resources and heritage, which was documented in various reports since the 1970s (Club of Rome, Brundtland-Report etc.).
This 4th volume of the Heritage Studies Series focuses on the relationships between concepts of heritage and sustainability or, as the editor points out in her introductory reflections, the implications which concepts of sustainability have for heritage and how they can contribute to more sustainable treatment of heritage. In another introductory perspective, Yang points to the fact that heritage and culture have hardly played any role in the sustainability discourse even though both are vital for social cohesion and peace and therefore for sustainable development. In this sense, the author presents the Agenda 21 for Culture as not only a "fourth pillar of development but a transversal principle that needs to be integrated in good governance" (p.33) illustrating it by examples of concrete actions in various parts of the world. Bandarin further depicts the struggles associated with the mainstreaming of culture into development policies and strategies as well as its recognition as a fourth pillar of s.d. (i.e. as an enabler of sustainable and community oriented development processes (p. 40) as well as a driver of economic development, employment generation and investment processes). For that purpose, he reviews diverse UN and specifically UNESCO documents, programmes and instruments of the decades since the 1972 World Heritage Convention and presents recent results of this endeavour.
Under the heading "History and Documents", Engels refers to various international documents and retraces the conceptual shift from conservation to (sustainable) development in cultural as well as natural heritage. Her focus lies on natural world heritage and for that specific case she comes to the conclusion that in order to achieve sustainability, it is of importance "to consider activities not only in the site itself, but rather in its broader surroundings" (p. 56). Rössler presents the discussions and development of approaches relating to landscapes and the respective production of international legal texts from the 1960s until today which subsequently offer more integrated tools to challenge the rapid and often devastating changes in the global context. Along the central questions of how intangible cultural heritage can contribute to s.d. and how s.d. is reflected within cultural heritage, Erlewein defines intangible c.h. and analyses international documents. She also argues that culture permeates all other dimensions and strongly pleads for its integration as a fourth dimension in its own right beside the economic, environmental and social dimensions of sustainability.
Under the heading "Paradigms," the first article by Boccardi starts with the questioning of central connotations of the concept of heritage in light of a possibly new epoch, the Antropocene, which marks an irreversible destructive change in the nature of the relationship between humans and their environment. His main criticism focuses on the dualist notions of heritage (treated as islands in a sea of non-heritage) which has to be protected - by mitigation - from the adverse effects of external factors. He pleads for a more holistic approach taking into consideration other societal and political goals (rather than mainly heritage conservation goals) which might also redefine the role of heritage in society. Furthermore, this approach must raise the question of what should be conserved and what should be allowed to change and thereby leave space for new creation. Beginning with a historical outline on the evolution of cities, Turner presents concepts of cultural heritage that over time have shifted from "objects" (monuments, sites) to cities as processes and finally, with the UNESCO Recommendation on Historic Urban Landscape (2011), to a more holistic and integrative approach. This includes "social and cultural practices and values, economic processes and the intangible dimensions of heritage as related to diversity and identity" (p. 104) - with a special emphasis on the social inclusion of formerly excluded urban areas. Hosagrahar retraces the modern preservation movement in South Asia from 19th century British colonialism and its interest in isolated archaeological sites and ancient monuments to a very recent awareness of historic towns as a valuable world heritage. However, a systematic approach to urban conservation is threatened by demographic and developmental pressures of excessive urbanization along with many other detrimental factors which she pinpoints in detail in her paper. She closes with the presentation of an engaged new framework for integrating heritage conservation with s.d. In his theory-based article on indigenous peoples' sacred natural sites, Rode delineates the importance of the inclusion of indigenous peoples in s.d. as well as the increased authority of the dimension of culture (biocultural conservation strategies) as a fourth pillar of s.d. On the other hand he also points out conflicts and misconceptions that are disclosed in the rhetoric of the "ecologically noble savage." Peters discusses the definitional and practical ambiguity of the concept of s.d., especially as "development" takes place in a neoliberal economic framework and has, in its history, played a strategic role as a Western project in the transition from colonialism to globalization. The dominant Western concept of development created the notion of un(der)developed or developing countries, thus ignoring the non-sustainability of Western consumer culture, the domination of economic interests and the inherent social, economic and environmental inequalities it creates on a local as well as global scale. The author therefore pleads for culture and cultural heritage to be considered important parts of the perceptions around s.d. because they shape concepts of what development is and should be. He discusses, however, the pitfall of cultural concepts and finally proposes the concept of solidarity - as a transformative potential and a productive force for alternative approaches to s.d.
The series of articles under the heading "Theory, Methods and Practices" starts with a discussion on the relatively recent concept of cultural landscape and the implication of s.d. in a field which the authors, Sabaté and Warren, characterize as highly subjective and subject to value judgement especially when it comes to deciding which historical layer to privilege or how to reconcile preservation and development. Although according to the authors, many aspects need further study, they are quite decisive in their judgement that there is no sustainability without involving the local community in whatever decisions are taken by multidisciplinary teams of experts and professionals. Yadollahi analyses the contribution of historic public places to social sustainability and specifically the effectiveness of methods that assess this contribution. She reviews literature on urban planning as well as urban heritage conservation and presents methods applied in concrete settings (such as Copenhagen or urban spaces in Australia) that serve as examples to illustrate the strengths, but also weaknesses of current public space research. Forero points to the fact that the socio-cultural dimension of sustainability is still 'underdeveloped' compared to economic and environmental dimensions or to exclusively architectural and aesthetic perspectives in heritage management. She stresses the necessity of perceiving the relation between "objects" (material aspects of heritage) and socio-cultural practices and values and of acknowledging the social function of heritage. Recent international declarations and agendas back up her propositions. Van Oers vividly discloses the "essence of sustainability in heritage management" (p. 201) by starting with a critical overview of management principles shifting from a strict preservation of monuments to one that is characterized by integration (different value systems, community driven processes and locally rooted development projects). He criticizes the vague connotations of the term s.d. that have led to different uses and abuses so much so that it has lost its meaning and its potential cannot be operationalized. With culture - in its broadest sense - playing a crucial role in s.d. processes in the past years, he sees more chances for the principles of integration to be put into practice and along with it a key to the success of development initiatives. Two case studies (Macao and Shanghai) illustrate his interesting thesis. Given the growing impact of tourism worldwide, Westrick presents the state of the art of instruments dealing with sustainable tourism especially in World heritage sites. The examples she refers to give testimony to the multi-faceted problems of growing tourism, especially of "high tourist numbers visiting the property in a very short time" (p.210), like cruise ship tourism. In the last contribution, Kloos reflects upon the impact of assessment tools on the sustainable preservation of World Heritage sites. He refers to three cases (Dresden, Istanbul. Cologne) in which the visual integrity was threatened by (planned) bridges or buildings and depicts the circumstances under which heritage impact assessments are (un)successfully applied to foster sustainability.
Altogether, the articles written by experts in various disciplinary fields and aspects of heritage make it clear that the terms sustainability and sustainable development embrace very complex and flexible concepts "allowing a great variety of stakeholders to adapt it to their own purposes. Accordingly, there is still the tendency to see the environmental dimension and/or economic development as the focal point(s) for sustainable development" (p. 137) – and this very often in a neoliberal capitalist context. Against these mainstream tendencies, the future will show whether civil societies will be strong enough to implement more social justice, cohesion and equality as propagated by most of the authors in this volume.
Renate Nestvogel
Weitere Besprechungen zu "Perceptions of Sustainability in Heritage Studies":